but it's still effed up!! Then he puts on a fresh simi-gloss coating of nitro!!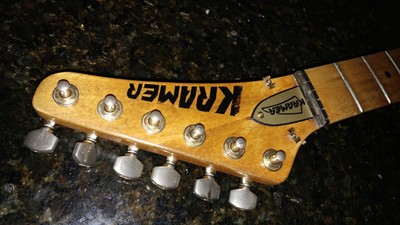 http://www.ebay.com/itm/Kramer-vintage- ... Sw4CFY7FG1
But let's face it, someone buys a Kramer b/c it has a Floyd.
---
I love the string tees on both the high and low sides.
I don't usually find a use for this smiley
, but I like so there you have it.
Steve B.
---
KickstartMyHeart

Kramer Kingpin
Posts: 4013
Joined: Fri Jul 08, 2016 9:38 am
The second-coming of the club-foot
.
Practice cures most tone issues.
_______________________________________
Great Deals with MrWhipper, JoeyM, Del Hudson, skydive69 and Kramer Classic I
---
LMAO
Not a Kramer for sure, looks more like an older Peavey Tracer neck or such. Gotta love how he found a use for the string retainer mounting holes... Jesus.
---
Oh boy!
'83 Pacer Special, Spiderweb
'85 Retta, Black
'86 Retta, White
'87 Retta, Shattered Glass
'87 Retta, The Fly
'88 Retta, Guitarship
'14 Pacer Classic, white, modded
---
Production Club Foot......
It's not really hoarding if your shit is cool....
---
Looks almost like they were trying to make it look like an old Washburn A series
---