So, this has taken a while. In 2016 I bought a translucent blue Pacer Deluxe body from 1986. This came from a parted guitar with a maple neck, and many lamented that it would be snatched by somebody unaware of its history.
That did not happen. I vowed then to put it as well back together as I could, and I hereby present to you: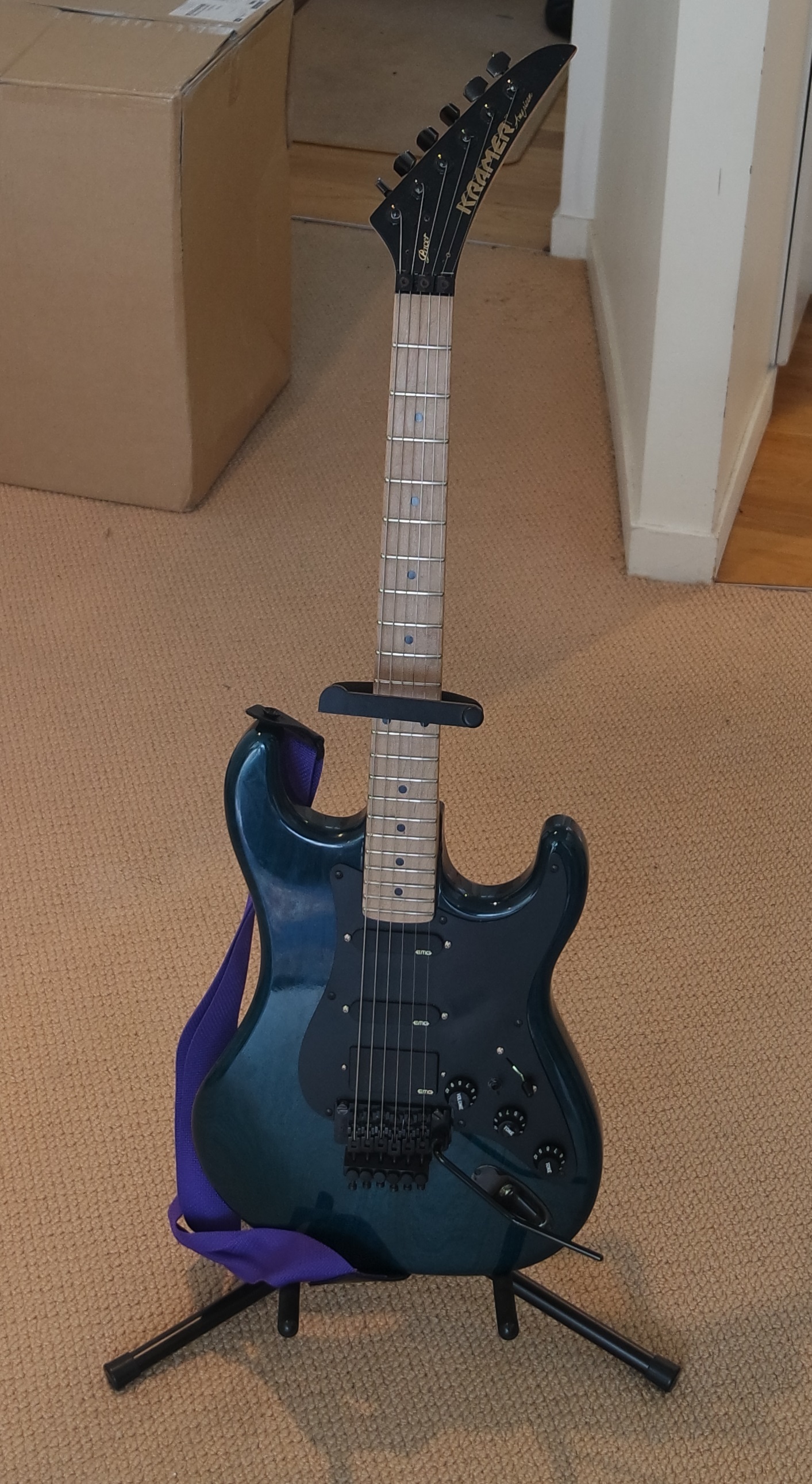 The reason it has taken so long was basically that the neck pocket was very wide, so that I took it to a luthier to get it shimmed. He not only took months and months to do it, but set the Floyd Rose so low that the body now has the common grooves into the wood from the screws fastening the saddles (guess who is not getting any more business from me?).
But here it is in any case, and I think it has turned out very well.
I have to give a shoutout to two forum friends who helped this happen. Bacon sold me a neck for the project at a very overcomable prize. This was a tremendous help, since maple necks are few and far between. What is more, he had sanded off the paint of the neck and put in larger frets, so even though it is a hair too thick for my tastes, it still plays far better than it did when new. Del Hudson chipped in with a neck plate that is correct for the year, as well as a correct jack plate.
I've done some changes to the guitar from how it was, but not irreversible ones. First of all, this is basically a cooler version of the Reb Beach Pacer
, so I put in the same pickups as he used in his (85/SA/SA). The Floyd Rose is a Schaller Lockmeister. That is not the traditional Schaller FR, but rather their version of the OFR; as far as I can tell (and I've gone so far as to weigh every part) it is exactly the same as the modern OFR in every way except the logo – and it only costs about 2/3s of the OFR in Europe. Finally, I've removed the string tree and strap locks, as I prefer to get a strap with a very small hole in it, so that I have to take the strap buttons off to fasten it onto them.
I might change the pickups to a more traditional set once I get one of my other projects set up. But for now, this is rocking again, and I dare say that
I've
done a decent job with it.