Awesome rescue
---
_xxx_ wrote: And a question - what's the correct orientation of the serial/parallel switch - series when up or when down? I think it's flipped here, because the hum in series is "up" and split mode is down (parallel is in the middle).
Does this diagram from the old KF help?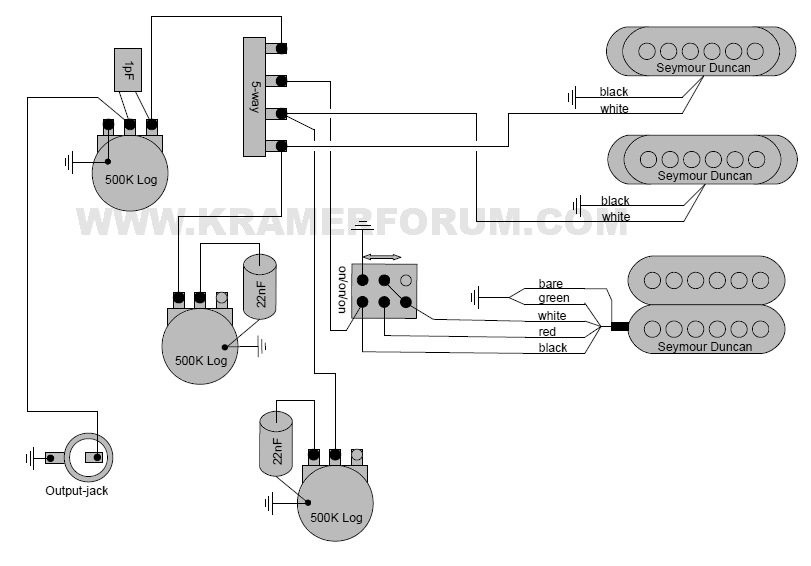 Now you've got me wanting to build a beak machine!
Very cool project.
I don't usually find a use for this smiley
, but I like so there you have it.
Steve B.
---
I'm literally asking about the physical position, you can mount it flipped either way... should series be down or should split mode be down?
---
KickstartMyHeart wrote:Looks like a top-notch player

.
It is! I completed it and am tweaking it, the tone is unbelievable.
Here's the new fretwork, I went full caveman on it and just did it with 12". The frets had enough material to cover the difference. If it hadn't worked, a refret would have been inevitable - but it was just right. Maybe you can see that the frets are somewhat higher in the middle than at the edges.
---
KickstartMyHeart

Kramer Kingpin
Posts: 4136
Joined: Fri Jul 08, 2016 9:38 am
That fretboard looks like new
. Enjoy the new member of your herd
.
Practice cures most tone issues.
_______________________________________
Great Deals with MrWhipper, JoeyM, Del Hudson, skydive69 and Kramer Classic I
---
Here's the result:
---
If your neck pocket needed a .7mm shim to tighten up to the neck, why did you not add .35 to each side to keep the neck centered in the pocket?
It's not really hoarding if your shit is cool....
---
To match the edge of the body on the lower side where you play it. otherwise there would be a little step there. Additionally, the upper side offers much more contact with the body, holds the neck firmly and is thus better for the sound too. Also the gap is way less visible on the upper side.

I clamped it and turned it that last .1-.2 mm as needed to center the strings before drilling, centering was not an issue. Having that visible and feel-able step/gap would be awful though.
---
---
I gave up looking for an R5 tranny neck for proper restoration ("thanks" to all the hoarders
), so I'm refretting this one right now with some nickel-free Jescar jumbo frets. Already re-radiused it to 12" and about to hammer in the new frets. Wish me luck...
---