Mexican Standard Strats are pretty good as they are.
---
Not comparable, the wood is not really high-end in mex Strats. But a US Strat would probably be as good or better after some modding, the US Deluxe/Elite definitely already is. For half the price I guess (assuming that PRS will be as expensive as ever)
Last edited by
_xxx_
on Fri Mar 09, 2018 9:37 am, edited 1 time in total.
---
KickstartMyHeart

Kramer Kingpin
Posts: 3927
Joined: Fri Jul 08, 2016 9:38 am
Fender strikes back
The Fender "Roasted Earth"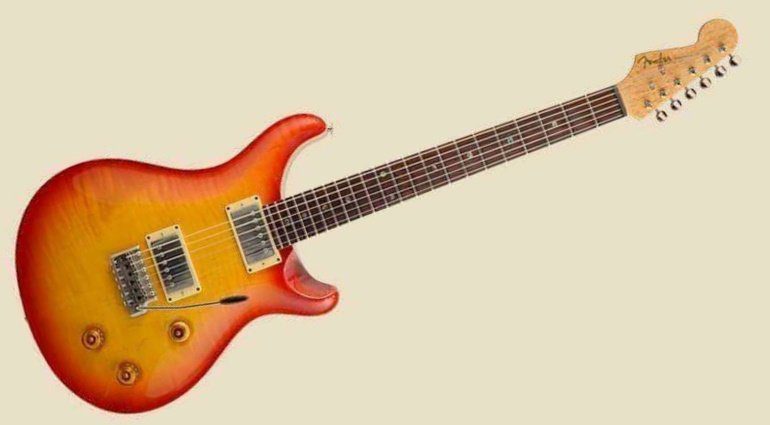 And, yeah, it is a fake.
Practice cures most tone issues.
_______________________________________
Great Deals with MrWhipper, JoeyM, Del Hudson, skydive69 and Kramer Classic I
---
KickstartMyHeart wrote:Fender strikes back

The Fender "Roasted Earth"
Hehe
But I do like it better than the PRS Strat design.
---
marsmountain

Kramer Maniac
Posts: 585
Joined: Sat Jul 30, 2016 11:40 am
I used to immediately change the radio station as soon as I heard a John Mayer song start to play, but over the course of the last few years, after reading his interviews in various guitar magazines and watching him play and talk on TV, I have come to hold the opinion that he is actually a very talented guitarist, with a great love for the instrument and music in general and one who surrounds himself with some of the greatest musicians in the business. Unfortunately for him, all this continues to be overshadowed by the Jessica Simpson/Jennifer Aniston/latest celebrity girlfriend tabloid exposer and the social misconception that he is still among the Justin Bieber's/Timberlake's of the teeny bopper genera.

IMO, I like this guitar and I would love to have one. PRS would have been foolish to not sign him on as an endorsee and build him a guitar to his personal specifications. The point is to sell guitars after all.

Now if somebody could just convince Mick Mars to sign on, I would be sale number 1.
1987 Kramer Baretta II
Kramer Ferrington Tele
Kramer Baretta Special (Floyd Mod)
Kramer D-212S Acoustic Electric
"Kramer" Mick Mars GGG Tele (MarsMountain)
"Kramer" Mick Mars Mirror Top Tele (MarsMountain)
"Kramer" Firebird (MarsMountain)
"Kramer" Flying V - N2 (MarsMountain)
---
He ain't talentless, though I'm not very impressed either. But yeah, business and all.

WjUq_Z3b1Y4
---
I agree with Mars.

Like many entertainers who are positioned to make their late-teen early-twenties social and developmental mistakes under the microscope of the public eye, this guy has gotten chastised for behavior that would be normal for many people at that age, and as was pointed out, even as artists grow musically and also in terms of their character, the judgmental modern tabloid culture tries to keep them handcuffed to whatever happened to be the lowest point of their lives, as this feeds the cultures' addiction to scandal and self-righteous indignation as a way to distract us from looking at ourselves.

The way I see it, as new musical styles are invented and evolve, love and appreciation for the blues is slowly fading away. This guy's development is built on a solid foundation of blues appreciation and he plays it well. We really don't have many young players working to keep the torch lit. Derek Trucks, Mayer, Bonamassa... who else? There's just not that many anymore. Sure, this dude likes to have fun and mess around outside his comfort zone, like sloppy off-the-cuff EVH covers and going on tour with Grateful Dead, but he is talented and versatile, and he is respectful to the lineage of the blues. If you think he is a dick as a person, then I would guess you might not have actually read or watched interviews with him.
SO many projects, so little time!

Classic II red Tele
a few other sweet ones!!
some lumies & Spectors
buncha projects that'll eventually get done
some that won't
Bastards:
Ed Sheeran Sig Martin, 1st ed.
Billie Joe Armstrong Gibson LP Jr, 1st year
---
I've been thinking I need an uglier more expensive strat type guitar.
---
lanon wrote:I've been thinking I need an uglier more expensive strat type guitar.
But let's face it, someone buys a Kramer b/c it has a Floyd.
---